Appointment scheduling
Flawless appointment scheduling, reminders, prepayments & billing
The extensive and easy-to-use appointment scheduling capabilities and great SEO platform features of Healee allow you to gain new patients and increase patient satisfaction. The verified patient testimonials and reviews improve your online reputation and rating.
Personalized Demo
With Healee's booking service, patients see your real-time availability and can...
Book in-person or online appointments for themselves, their children оr their relatives directly in your calendar anytime, anywhere
Book a slot for lab tests or medical procedures (EKG, ultrasound, biopsy, and more)
Book vaccination appointments (annual flu shots, measles, hepatitis B, Covid-19 shots, etc.)
Prepay or guarantee with a bank card their reservation, so you can set no-show or late cancelation fees.
Online calendar
Patients can access your calendar and book appointments in it. In case you change your schedule, you can notify all patients with a click of a button.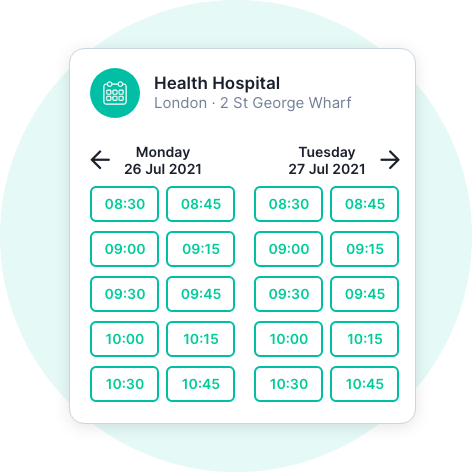 Verified patients
Every user is registered with a name, email and phone number, and can book up to 4 appointments. This way we help prevent misuse.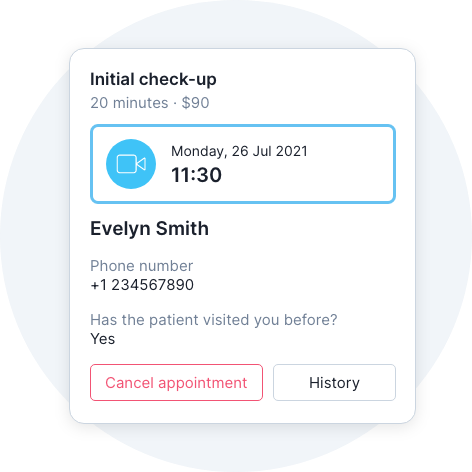 Mobile access
You can access your schedule both from a mobile device and a computer. You can edit your schedule, and book or decline appointments while on the go.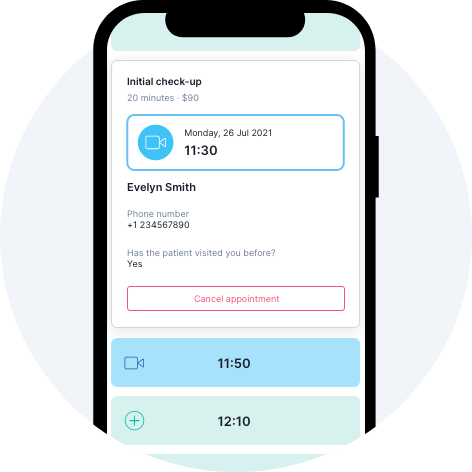 More patient information ahead of time
You know what procedures or medical advice patients are reaching out to you for, because patients can provide that information when booking the appointment: reason for visit, payment method, new or existing patient, medical conditions, etc.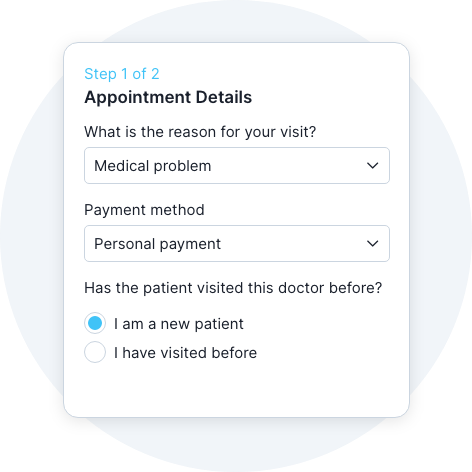 Automatic email and SMS confirmations / notifications
You receive an instant email notification with all consultation details once the patient ends the booking. One day prior to the appointment, patients are reminded via email and sms, which helps reduce no-shows. In case an appointment is cancelled, both you and the patient get an sms notification.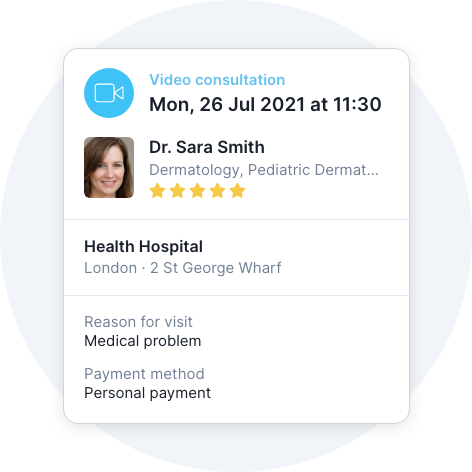 Link to your website
We create a dedicated "Book an appointment" button that you can embed in your website, so that all visitors can book an appointment.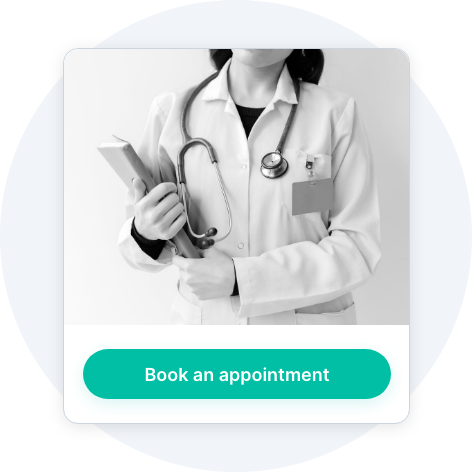 What doctors
like

about


Healee Appointments
Exposure to more new patients
With an online calendar, you can get an average of 10 new patients each month, or more.
More patient-facing time
Healee's online booking service helps you save time and allows you to focus on what really matters: providing better care to patients.
Better online visibility
You get verified reviews from verified patients. Our great SEO also allows you to rank better at frequent patient keyword searches and build a better online presence, gain more visibility and attract new patients.
View and edit your schedule on-the-go
You can access and update your calendar anytime, anywhere from any connected device - phone, laptop or tablet. You can accept or decline incoming appointments wherever you are.
Significantly simplified and streamlined scheduling
Set your calendar with a few clicks from any device and eliminate scheduling chaos. Send automatic reminders and appointment reschedule notifications. Let patients know in advance that a flu shot day is coming, by sending mass messages to a selected group of patients.
Clear and simple interface
It is easy to set up and get started within the same day.
No more inefficient manual calendar management
The online booking system automatically displays open appointment slots to patients based on your personal schedule and once booked, patients' appointments automatically appear in your calendar.
Guaranteed privacy and security
With an online calendar, you can get an average of 10 new patients each month, or more.