Getting started
This short tutorial covers the primary sections of Healee MD, outlining the steps you need to follow to use the main features of the application.
In case you have further questions, or you need support, you can always contact us at support@healee.com
Install Healee MD
Healee MD is available for both iOS and Android.
To download and install the app:
1

Search

In the App Store or Google Play, search for "Healee MD"

2

Install

Tap Install or Get
You can also use Healee MD in your mobile browser, on app.healee-md.com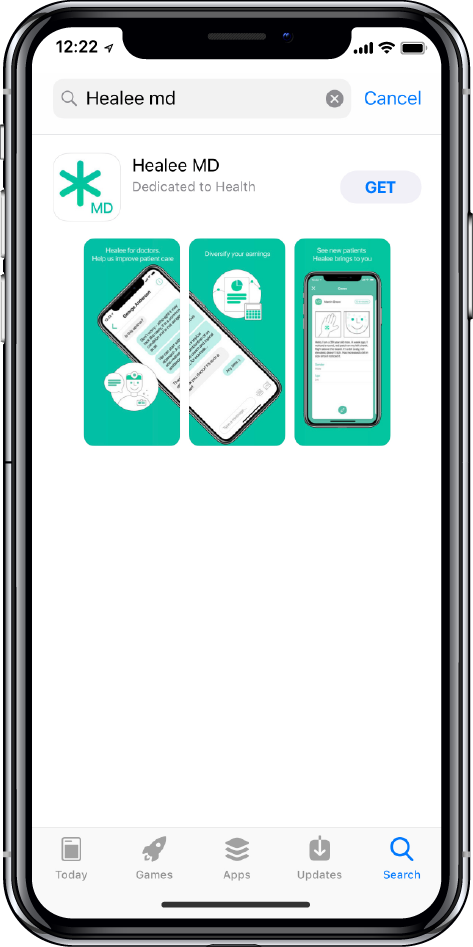 Register
Once you install Healee MD, you need to create an account and fill in your profile information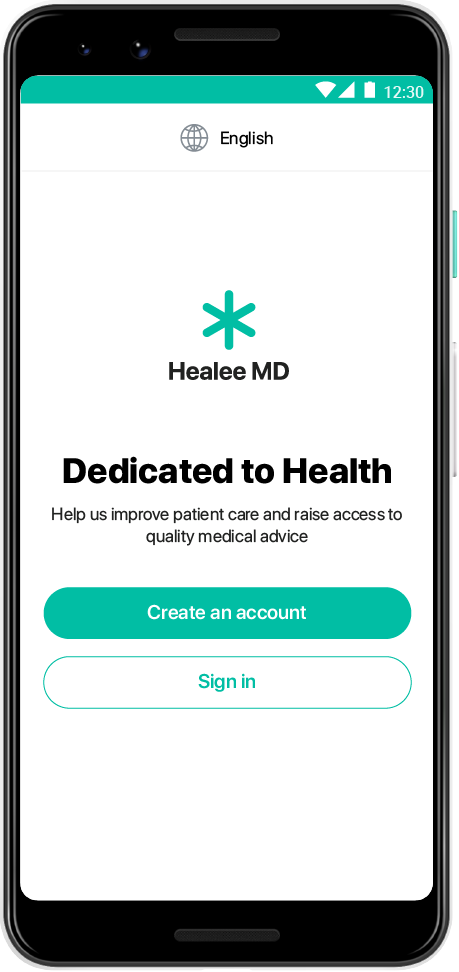 2

Enter your email, and tap Next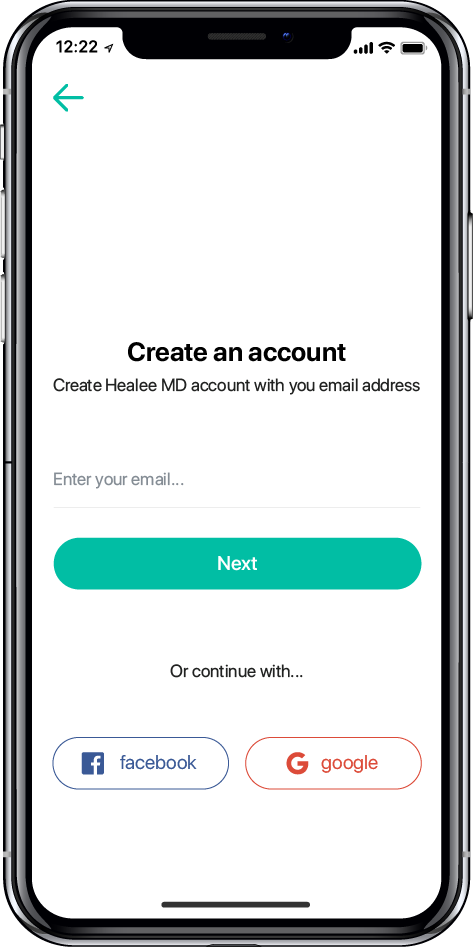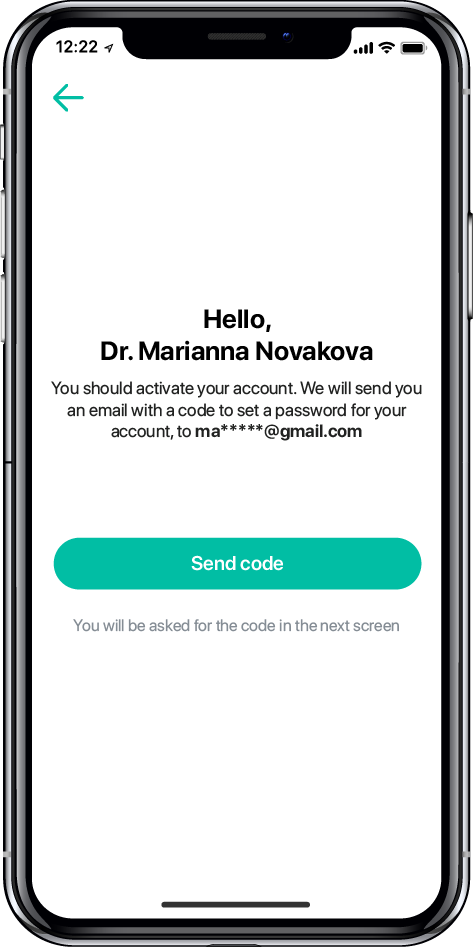 3

For verified doctors

Profile activation

Click Send code, and on the email you provided you will get a 6-digit code to activate your profile. Enter the code and then set your password.

*If you are not a verified doctor yet, once you register,

contact us

and we will verify your profile.
4

Enter a password, and tap Next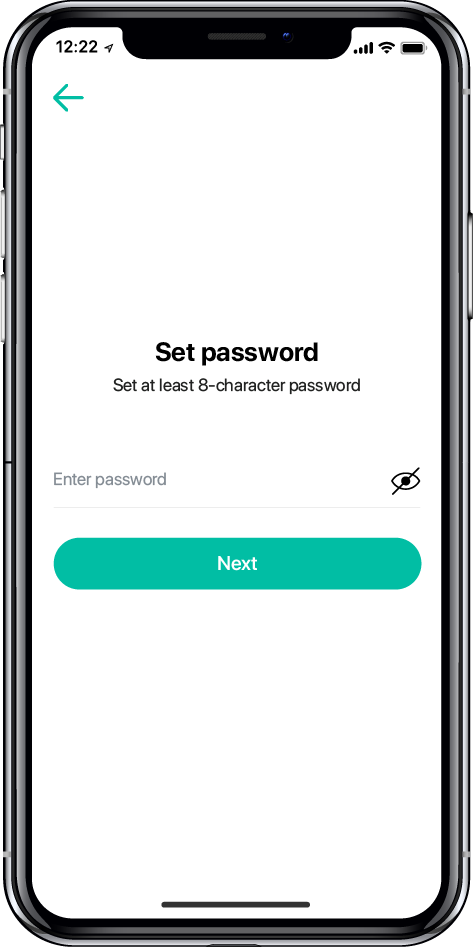 Fill in your profile info
The first thing you see after you sign in, is the Profile section.
1

Tap Edit at the top right corner of the screen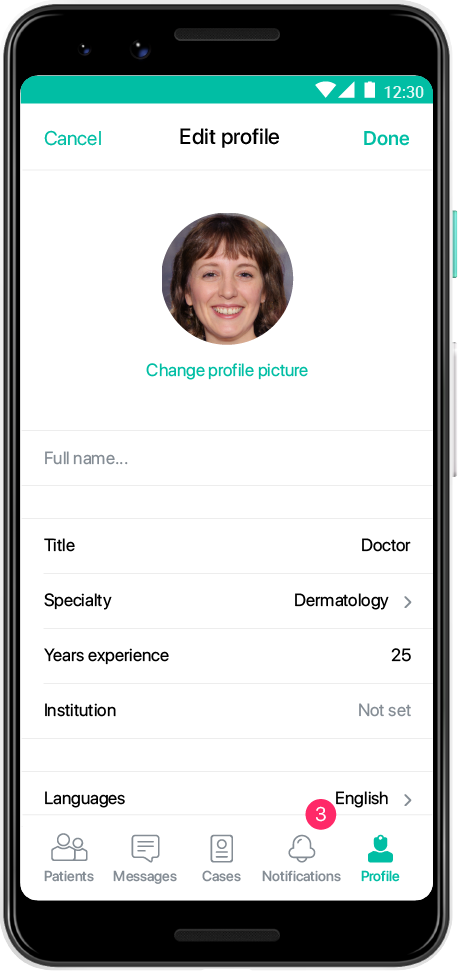 2

Fill in the fields

None of the fields is required. However, we recommend that you fill in all of them, for better visibility and credibility when patients are viewing your profile.
In the About field, you can put some info highlighting your education and professional history, fields of expertise, professional certificates etc.
Some of the fields, such as Price per consultation, will only be visible to you after we verify your account. See "Get verified" below.

3

When ready, tap Done
Get verified
Once you register, you can contact us to get your Healee MD account and your doctor profile verified.
Verification is quick and easy, it only takes a day. All you need to do is get in touch with us at support@healee.com or +359 888 731 254, and we'll take it from there.
By getting verified, you will gain access to a number of benefits, such as the ability to provide paid consultations to patients and define your own consultation price. Learn more about why it makes sense to get verified.
Invite patients
There are several ways to invite a patient to connect with you via the Healee platform.
Send an electronic invite
Imagine a patient is asking you for a consultation via one of the common channels: Viber, Whatsapp, Messenger.
You want to let the patient know that you will handle the consultation via Healee, and invite them to install it, find you there and connect:
1

Go to Profile, and tap Invite patients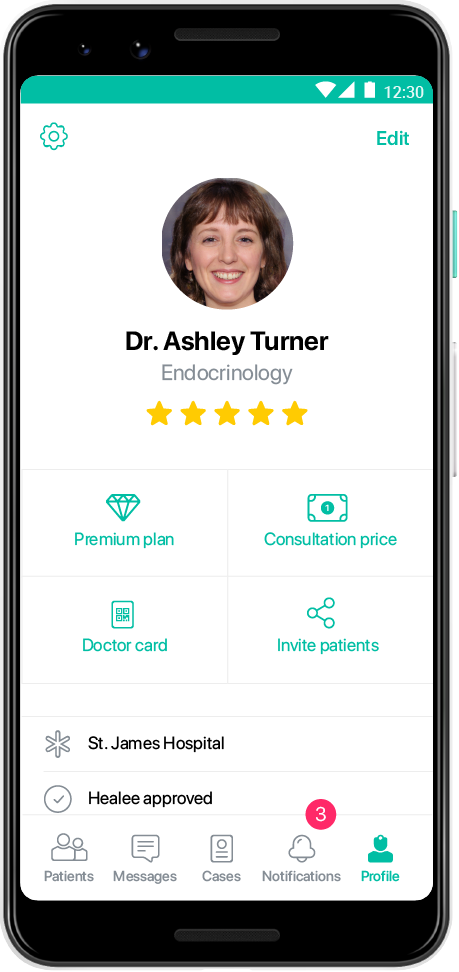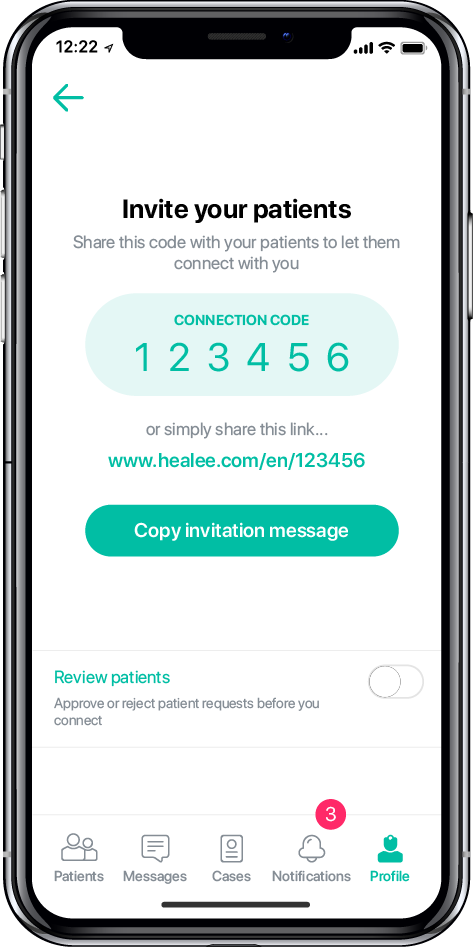 2

Tap Copy invitation message

3

Paste and send the invitation

Open the application where the patient has originally contacted you, tap Paste and send the message to the patient

The patient will receive a short explanation and a link to your dedicated Healee page which features a detailed description how to install Healee, find you and connect with you.
Give patients your Healee business card
This approach is most suitable when the patient is at your office for an in-person examination. Besides your contact info, the business card contains a short description of Healee's idea, and how patients can install the app, find you and connect with you.
So, instead of explaining all that to each and every patient, at the end of the visit, simply hand out one of your business cards.
Let patients scan your doctor card
Another approach suitable in cases of an in-person patient examination, is to let the patient scan your unique Doctor card.
Go to Profile, and tap Doctor card
Have the patient open Healee on their phone, and let them scan the card
Tell patients your connection code
Of course, you can always simply tell patients your unique Healee connection code. Patients just need to install Healee and use the code to find you and connect.
Chat
Once connected with you, patients can ask questions and send consultation requests. If before providing a response, you need to get more details from the patient or ask for further info, you can chat with the patient.
1

Go to Patients

Find and tap the patient's name in the list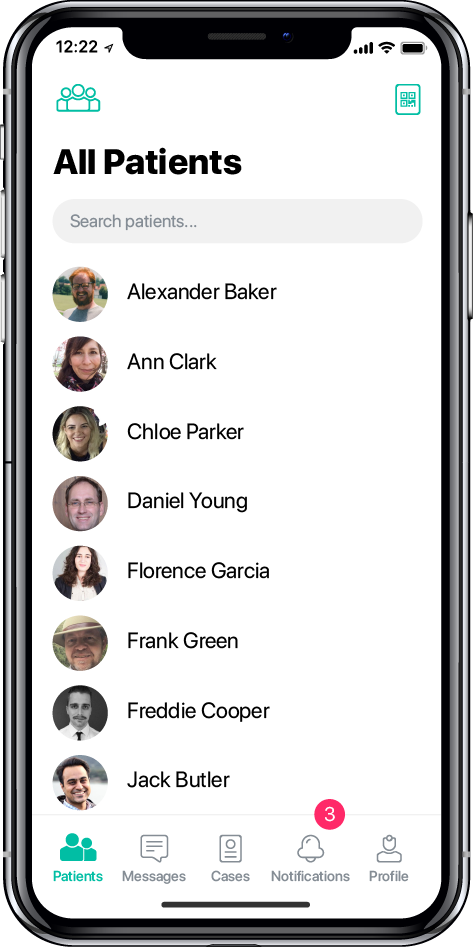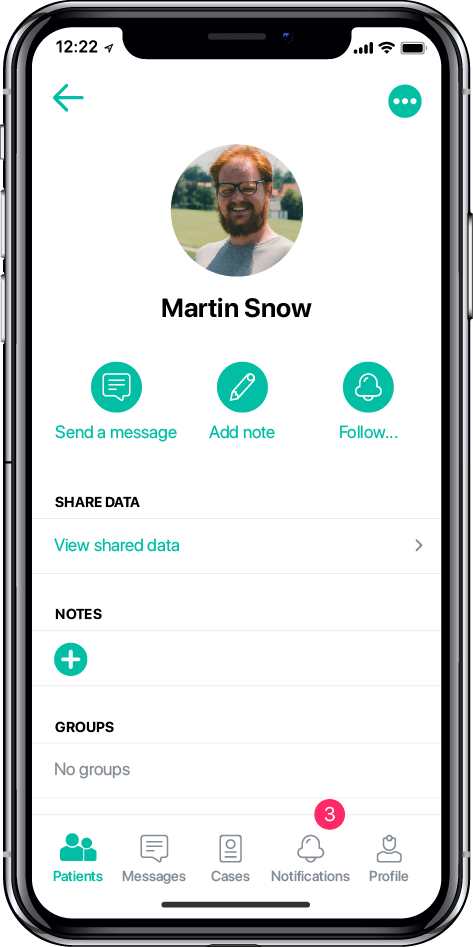 2

Send a message

Type the message and send it as you would normally do in any other chat app
Request video
If necessary, you can ask patients to record and send you short videos, to get a better idea of their current status and conditions.
Next to the message box, tap the icon in the middle
You can also start a live video call with the patient. Tap the camera icon in the upper right corner of the screen.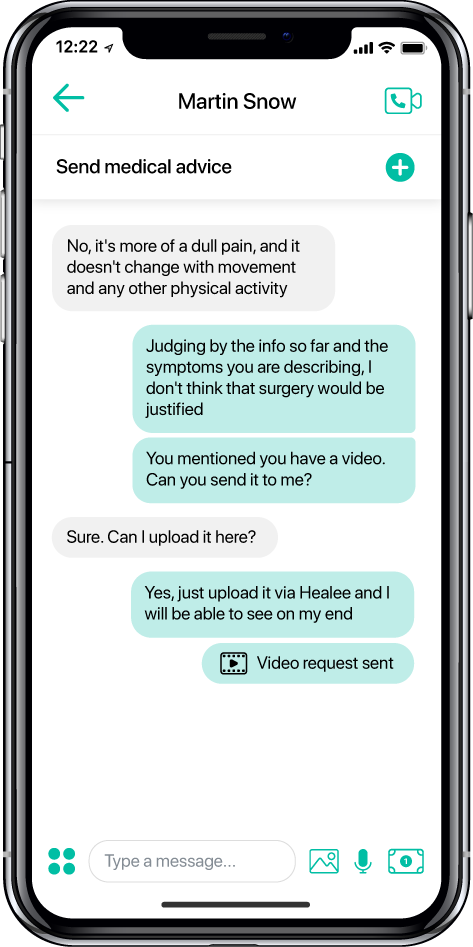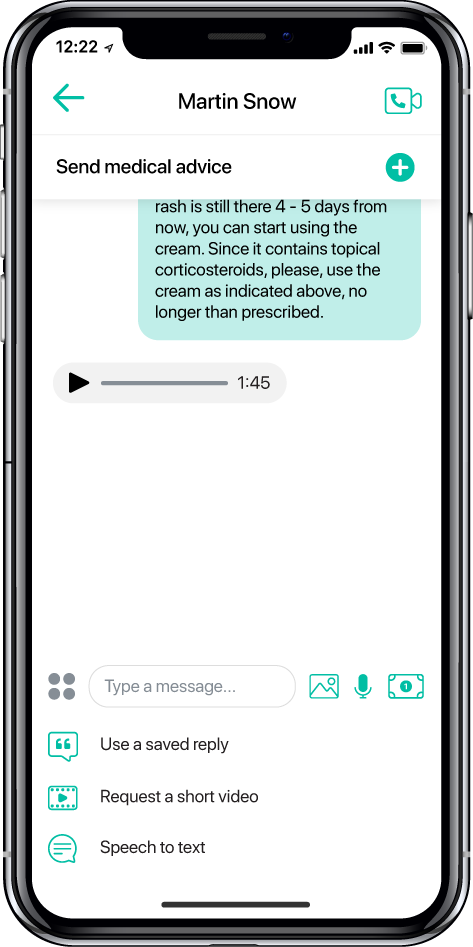 Voice messages
You can communicate with your patients by voice messages. To send a voice message, tap the mic button, speak slowly and clearly, and send. To listen to a recorded voice message from a patient, tap the play button
Ask for payment
Once you have all the info that you need to come up with a conclusion and respond to the patient, you can send a payment request, so that the patient can pay for the consultation that you are providing.
Next to the message box, tap the banknote icon
Important
The patient will receive the request and can accept or reject it. You will be notified in either case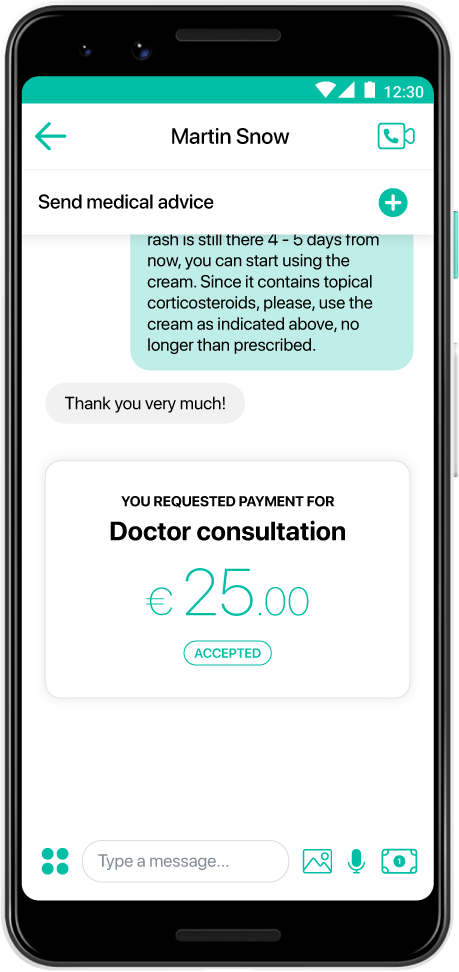 Add conclusion
Once you have all the info that you need, you can write your conclusion and respond to the patient.
Important
It is important to provide your consultation using the Add conclusion option, because the actual payment will only be carried out in this case. If you deliver your consultation via the chat, the payment will not be finalised and the patient will not charged.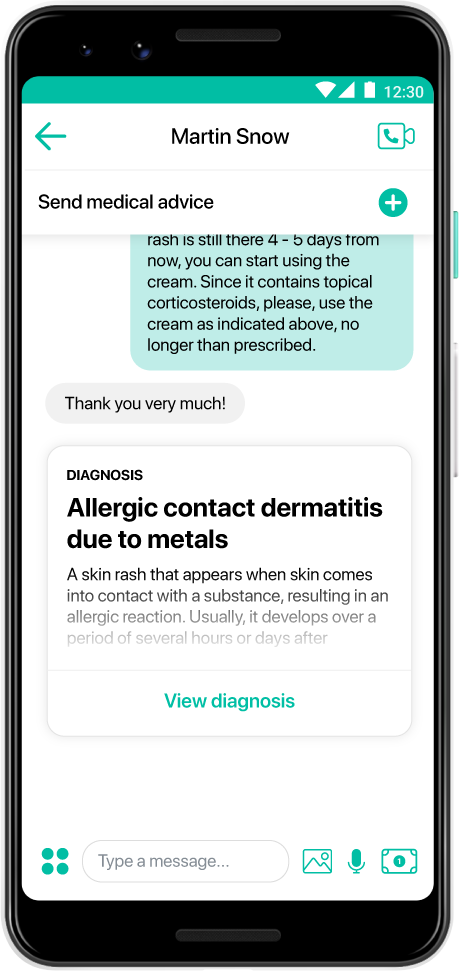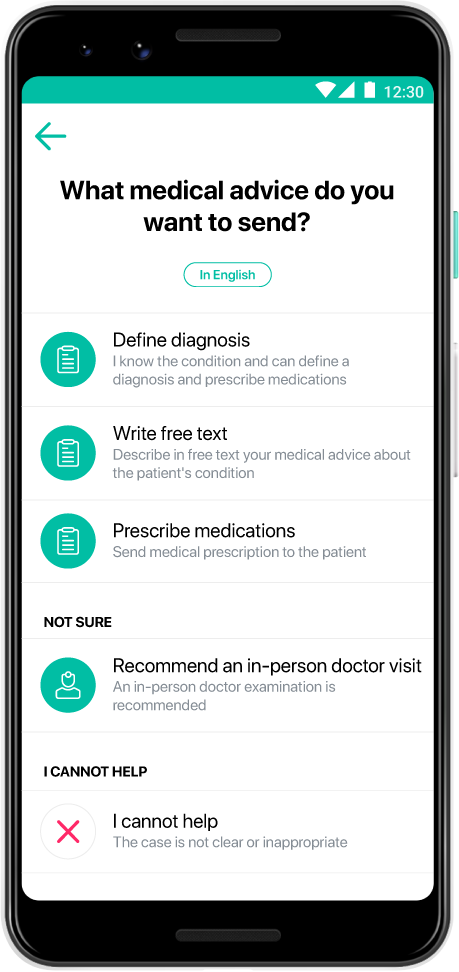 You have several options:
Define diagnosis
This is a step-by-step approach, where you have separate screens to:
type the diagnosis name, along with a short description or further details about the patient's condition
prescribe treatment, including the name of each medication, dosage and administration, and further details about the treatment
indicate whether a follow-up is needed and when
Define medical advice
This is essentially the same as the option above, but in a free-text, one-step format. You simply type your response to the patient as free-text, including all details about diagnosis, treatment, and follow-up.
Recommend an in-person doctor visit
This option is suitable when the patient case cannot be handled remotely and in-person examination is required.
Note that in this case, we are eventually not going to charge the patient any money, although the patient may have already accepted the payment request.
I cannot help
This option is suitable when you cannot provide any advice or response to the patient: for example, the info you have is insufficient, the case is not within your specialty and needs the attention of a different specialist.
Note that in this case, we are eventually not going to charge the patient any money, although the patient may have already accepted the payment request.
Write prescription
If necessary, you can prescribe medication and send the prescription to the patient.
1

Add patient details
If the patient has not provided their name, age and gender, enter them, or send a request to the patient to provide these details.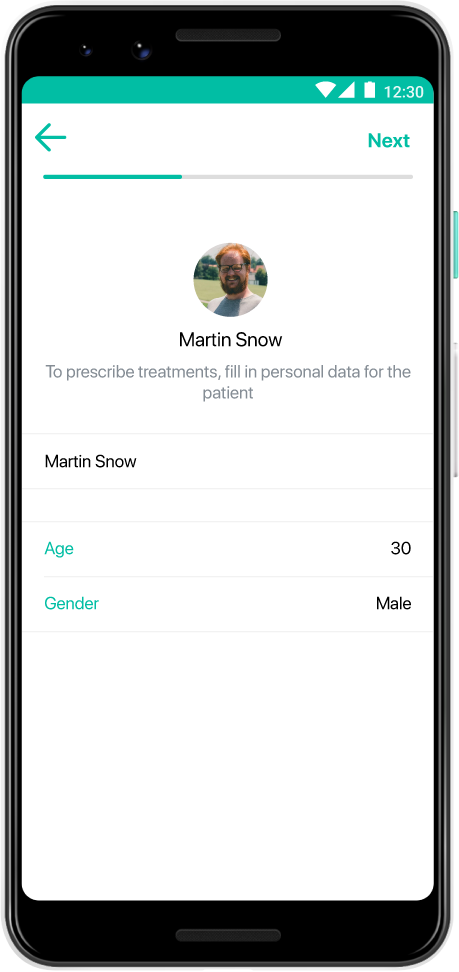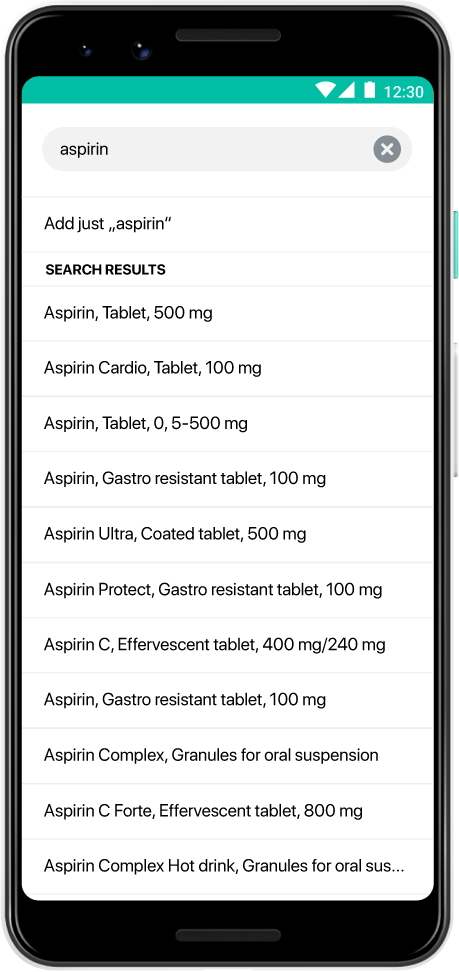 2

Add medication and regimen
Search for the medication. If it doesn't appear in the search results, use the "Add just…" option