Build your virtual practice with Healee!
Build a virtual practice and provide telemedicine consultations to patients
Get Healee MD telehealth app
Watch the video
Verification in an hour

We will verify your profile within an hour, and you are good to start providing online consultations.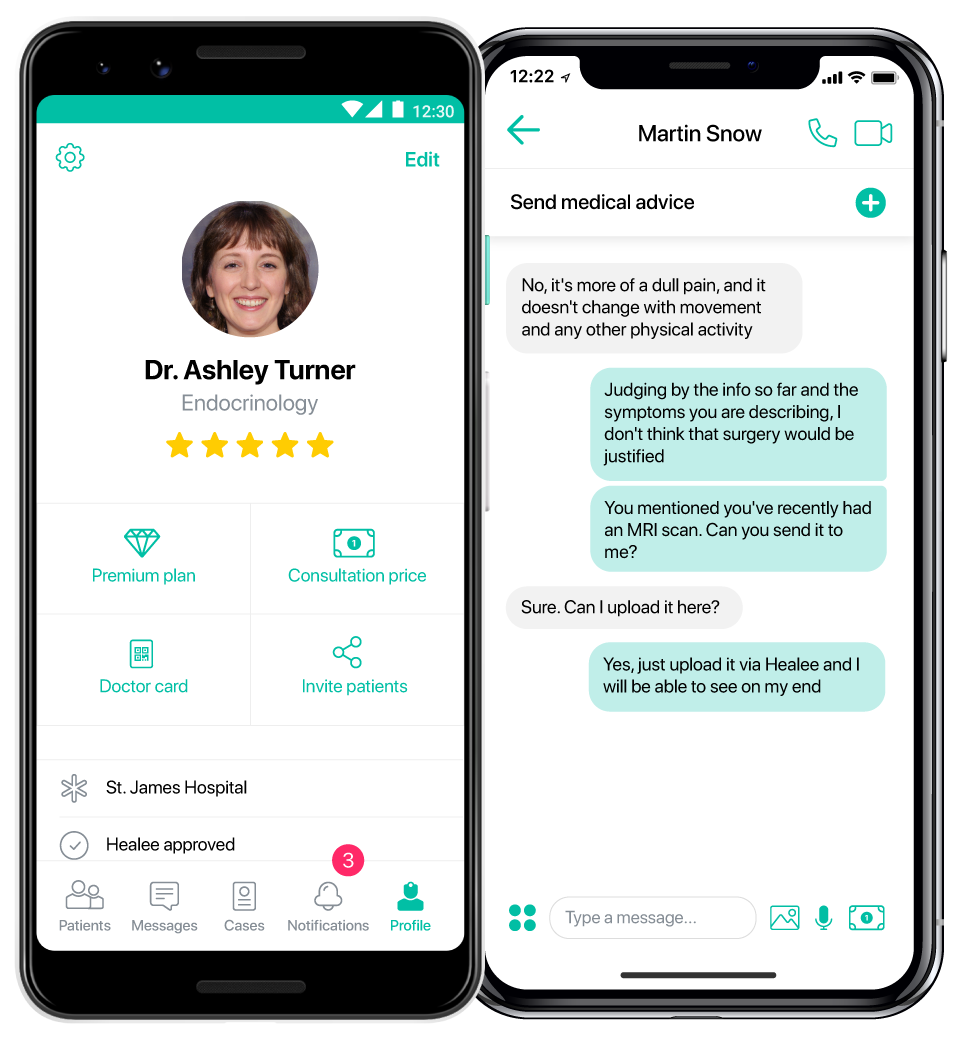 Patients

515000

Doctors

3200

Hospitals

110

Appointments booked

2.1M

Online consultations

14800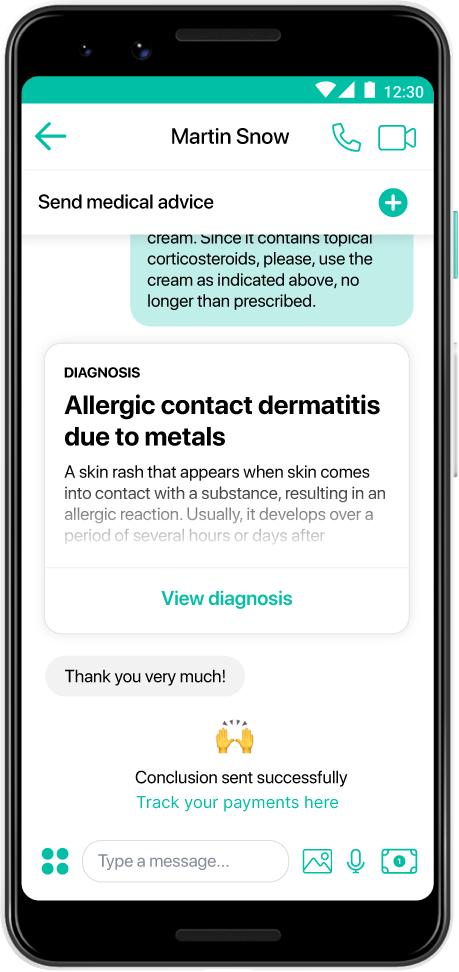 Better Care, Happier Patients
Provide better care
Healee helps you be a better doctor. With telehealth, you deliver comprehensive care anytime, anywhere. This means higher patient satisfaction and retention.
Let patients subscribe
Allow patients to subscribe to your services, and get prepaid packages of online consultations, at a lower price. You create your subscription plans and set the parameters - price, duration, number of consultations.
Monitor Feedback
View feedback from patients right after the end of the online consultation. Get patient data and measure patients' experiences of care to improve outcomes! With patient feedback, you discover examples of good practice and also get to know where you can make improvements.
Increase revenue
Collect additional revenue
With Healee, you support your traditional care delivery by adding a new revenue stream. You increase the revenue from both existing and new patients.
Offer flexible payment options
You can choose to have patients pay before or after the consultation. You have multiple billing options: out-of-pocket payments, insurance payments & co-pay models. Healee offers concierge, or subscription plans, letting you set all the parameters – price, duration, number of consultations.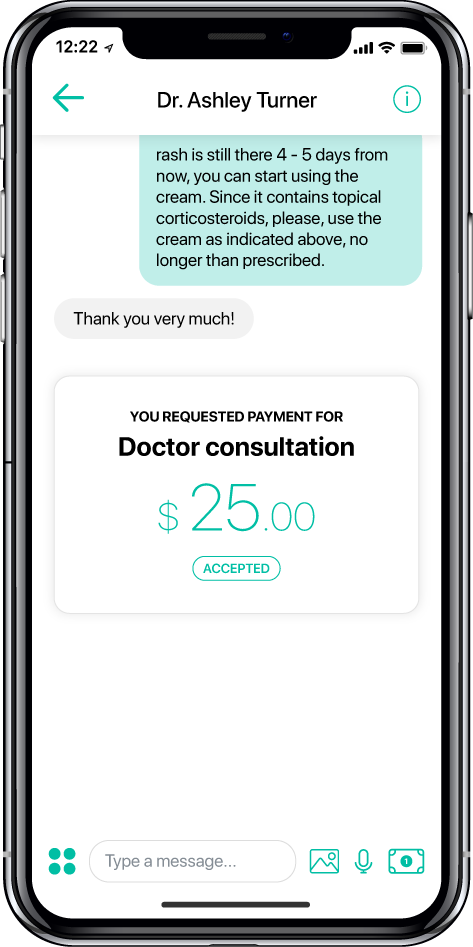 Rich communication options
Secure chat
Healee's secure chat is just one of the options you can use to communicate with patients. Whether it's plain text, images, audio or video, all information is sent fully encrypted.
Live video calls
You can have live video calls with patients. Yes, Healee offers rich communication channels, but doesn't take control away from doctors. You decide whether and when a video call is needed.
Robust speech recognition
In their hectic work, doctors often don't have time for typing messages. Healee offers a medical-grade speech recognition tool that allows dictating messages to patients.
Send mass message campaigns
Create mass message campaigns and send them to all your patients at once, to let them know of important developments, changes in your schedule, upcoming vaccination and screening campaigns, new subscription plans.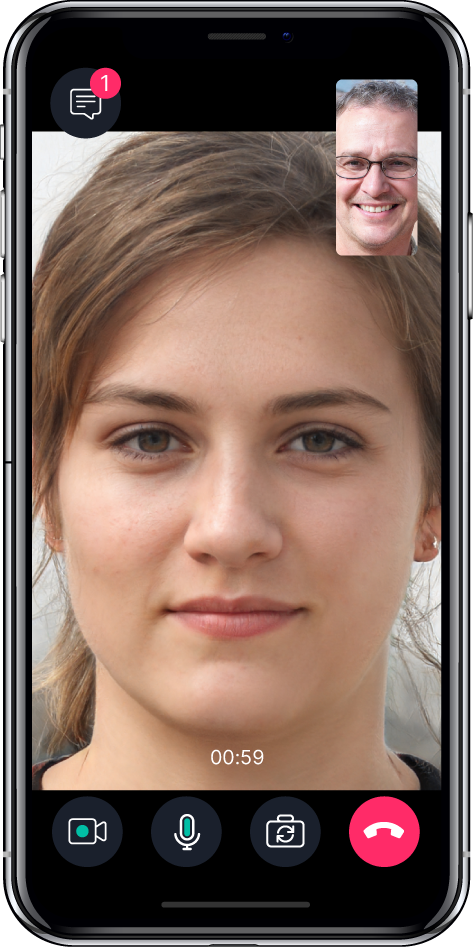 Multi-person conversation rooms
Conversation rooms for doctors
You can connect with one or more doctors via live chat or video, using a secure, encrypted connection. You can cooperate with other doctors for the more complicated cases, discuss treatment plans for patients, exchange knowledge or patient information.
A multi-patient conversation room
You can simultaneously chat with two or more people on the patient side! You can connect with the patient and their family, or caregiver, to make the consultation much more meaningful and improve outcomes. You can also let other doctors join the conversation, and have a doctor, a patient, and/or their caregiver in a single chat room.
Personal coordinator
Have your personal coordinator be the liaison between the patient and you prior to the consultation. The personal coordinator will join the conversation with the patient and help you with all the administrative details around the consultation.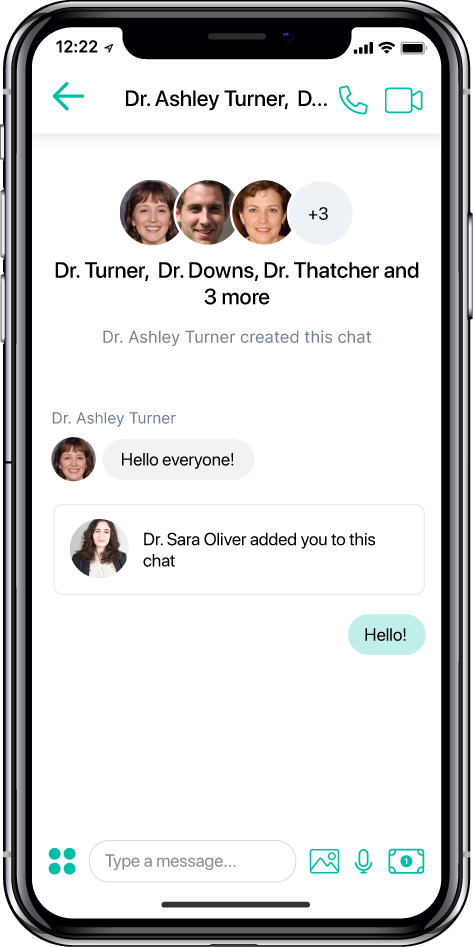 Easy access to patient data
Medical history
You can ask patients to share with you their medical history - past and present symptoms and conditions, treatments, medication schedules and reminders.
Images
Healee supports not only static, but dynamic medical images too. Patients can upload X-rays, MRI, PET and CT scans, and you can view them via a built-in viewer.
Lab results
Healee allows patients to scan lab results using their phone camera. The image is turned into digital data that you can view and analyze.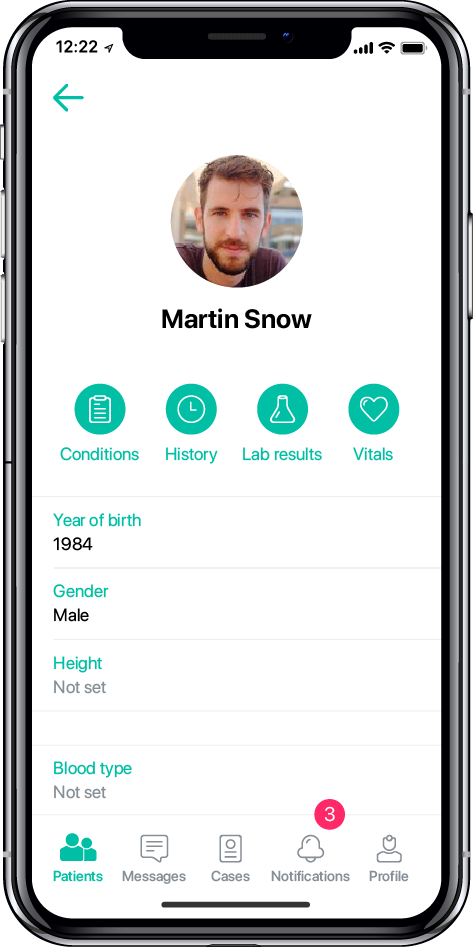 Convenience, time efficiency
Personal AI assistant
An AI-guided assistant can speak with your patients prior to consultations. You can then see a summary and possible suggestions which can greatly reduce the time of the actual consultation.
Away mode
Easily manage your schedule, to let patients know when you are available to take their questions, and when you are off.
Custom medical forms
Use Healee's custom medical forms to boost your efficiency by easily automating time-consuming tasks like gathering health data from patients each time the patient comes for a consultation. You can create pre-defined medical forms, with custom questions, as a means to gather information from the patient prior to the consultation, to help you provide the best high-quality care.
Online appointment booking service
Make scheduling and booking in-person and online appointments more accessible, easier and faster. Save time to focus on your practice and not taking appointments on the phone by knowing what procedures or advice patients are contacting you for beforehand. Greatly reduce last-minute cancellations and no shows by allowing patients to make prepayments, get SMS, email and instant messenger notifications for their upcoming consultation. Learn more
What doctors are saying?
I've been using Healee for about a year now, mostly its robust live video capabilities. The platform has already become an indispensable tool for me in providing therapy sessions to my patients. Healee not only allows me to be super flexible with my schedule, but it also significantly alleviates the anxiety and apprehension some patients feel when it comes to seeking mental health therapy.
Dr Petya Dimitrova
Psychiatry
Healee saves both my patients' and my time, and allows me to focus on what really matters: delivering better care. The platform allows patients to send high-quality images and videos. This helps me be accurate and provide meaningful advice, no matter whether it's a follow-up or a new patient.
Dr Jessie Felton
Dermatology · Haywards Heath
Many of my pediatric patients require longer term monitoring. With Healee, parents can stay in touch with me and share all test results as soon as they come out, which is essential to a comprehensive diagnostic picture. I've been also using Healee's Personal Assistant, an AI tool that interviews new patients, to gather as much information prior to the actual consultation as possible. Not only does it summarise all the data for me, but it saves me a lot of time too.
Dr Adil Kadim
Pediatrics, Medical genetics
For Doctors
Get detailed platform overview of benefits and features for doctors
Download PDF