A Case Study
Perci Health - a cancer care platform based on Healee White Label
Building a bespoke, comprehensive cancer care platform, using Healee as the engine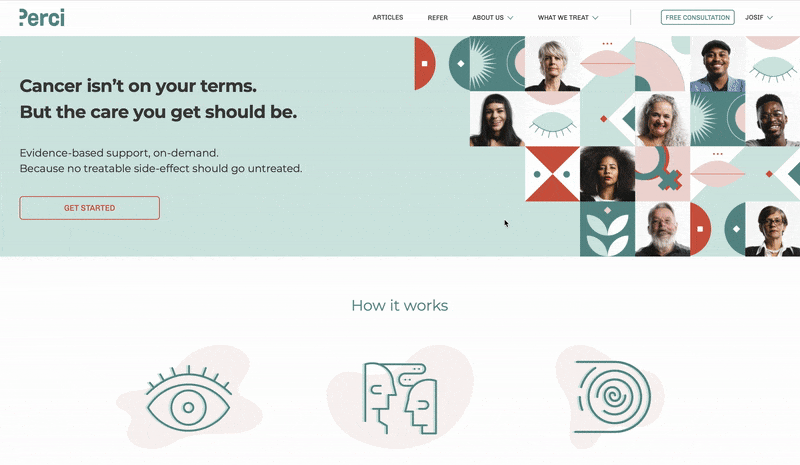 About Perci Health
UK-based Perci Health provides long-term, holistic support to people living with cancer, by connecting them with qualified cancer specialists, including dieticians, physiotherapists, psychologists and sexual medicine practitioners.
Perci's needs & challenges
Perci needed a complete telehealth platform, allowing patients to book appointments, share health data and get tailored advice from cancer professionals, via chat and video sessions.
Perci were considering two options:
Develop their own solution in-house
Find a ready-made solution
They knew that building a comprehensive platform of their own, from scratch, would be a massive undertaking, both in terms of time and financial resources. It would mean hiring and retaining an in-house development team with the right expertise and skill set, not just to build the platform, but to maintain and extend it going forward.
---
Ideally, Perci wanted to avoid all that, and instead adopt a ready-made platform, with the following characteristics:
Comprehensive functionality, covering all aspects of the patient journey: scheduling & booking, payment, health data exchange & communication
Highly scalable architecture, accommodating rapidly increasing numbers of providers and patients
Stability, robust data security and privacy
Flexibility and modularity, allowing for easy adaptation of the system to Perci's specific needs and workflows
Speed of implementation: a timeframe of no more than 6 months
Clear, reasonable pricing structure
Healee's Solution
We recommended that Perci use our Healee White Label concept to achieve the objective.
We:
built a completely separate, independent replica of the Healee platform, with all features and functionalities of the core platform, along with an option to include custom features
applied Perci's own brand identity & design, without any mention of Healee
distinguished Perci's fundamental identity, helped design and implement Perci's specific flows into the platform
Continue maintaining the platform going forward, without the need for Perci to have any in-house tech resources
Results
Over the course of three months, we managed to:
Action 1
Set up and fully configure Perci's platform
Action 2
Apply their complete brand identity and design
Action 3
Adapt the platform to Perci's needs, by rearranging and extending existing flows & developing custom ones
Action 4
Extensively test the platform, fix all issues
Action 5
Launch the platform, with Perci experts providing live consultations to patients
---
Perci's feedback
"Healee and the team feel like a safe pair of hands who are friendly, open, diligent and experts in their domains - this is why Healee is a fantastic company to work with!"
— Paddy Rehill, Chief Technology Officer at Perci Health
He also adds:
"The biggest draw to Healee was the openness to change and flexibility - we felt comfortable that if something difficult came up, we could work together to get past it."

"Clarity, expertise, reliability and quick turnaround throughout all steps of the process:

Choosing & qualifying the solution

Clear concept, marketing materials
Well explained, reasonable pricing structure

Setup

Super quick initial configuration of our replica
Valuable input & help from Healee's UX team for our design and branding
Impressed by how much functionality we managed to adapt to our flows, and how quickly

Final testing & go-live

Phenomenal responsiveness of the team: issues identified and fixed within hours
Platform went live smoothly, started handling live consultations in the course of 1 day"